In Episode 42 of Earned, Conor sits down with Robert Zajac, the SVP of Global Brand Marketing & Experience for Hollister, Gilly Hicks, and Social Tourist—the Gen Z brand created in partnership with TikTok stars Charli and Dixie D'Amelio. Robert also boasts a wealth of experience in the world of sports, previously leading marketing teams at ESPN and Nike.
We kick off the episode by discussing how Robert joined Hollister at the start of the pandemic, and learn how the brand pivoted to digital practically overnight. Robert explains that Hollister's Gen Z focus lent itself well to the shift, sharing how his obsession with consumer insights helps the brand stay up-to-date with the generation's rapidly evolving interests. We then switch gears and dive into the power of storytelling, as Robert reveals key techniques for crafting a compelling story from his time at ESPN. Next, we jump into Robert's career at Nike, and explore the factors contributing to the brand's longevity, before Robert unpacks the unique challenges and opportunities that come with marketing a celebrity-focused brand. We close the show by hearing the story behind Social Tourist, the Gen Z brand created with TikTok hall-of-famers Charli and Dixie D'Amelio.
We've included a few highlights from the episode below, but be sure to check out the full interview above, or tune in on Spotify, Apple Podcasts, or Google Podcasts!
The following interview has been lightly edited for concision.
"Good storytelling is a team sport": Robert Zajac on the Keys to Crafting a Compelling Story
Conor Begley: You talked a lot about storytelling when it came to your time at ESPN. ESPN is a publisher, ESPN's job is to tell a story, and to get people excited, and keep them entertained. When you think about storytelling, what are some of the lessons that you learned there?
Robert Zajac: Good storytelling, compelling storytelling, is really hard. I say that because I think it's a rare talent that one can conceive, build, and tell a story by themselves, especially in the world of marketing, advertising, and brand building. I guess the truth about good storytelling is it's a team sport. I feel that good storytelling is a team sport. Looking at the world of advertising, there were copywriters and art directors, and they would build the story, and they would give me the story, and then I would have to go sell it to a bunch of people that had no part in building the story. It's different these days. That was a while ago. At ESPN, finding a way to bring different and disparate streams of creativity and perspective and point of view together into one cohesive narrative always makes for a good story. I think that there's a lot of things I can slap that team sport moniker onto, but I think storytelling is maybe at the root of it.
Truth number two is, the best stories we told immersed people in a world authentically. Building stories from your own experience—this kind of goes back to the consumer insights—building your stories from your own experience always helps the team. I saw a great quote that was basically like, "When you're in a situation and you feel a certain way, the best stories make someone else feel that same way without them being there." That's an amazing art. That's an amazing skill, when you can get sounds and smells and a feeling communicated through a piece of work, whether it's a piece of writing, or piece of film.
When I first started working on motor sports at ESPN, I was like, "This is great. I get to work on a big sport. It's a big business, it's incredibly exciting. I'm ready." Everyone was like, "No, before you start working on this, you have to go to a race. You really can't work on the sport until you are at a race." They were not wrong. The first time you get into a race, there is nothing like being in the infield and the smells and the sounds and the roar of the engines and the flyovers and the people and the noise. At Daytona it's 200,000 people in one place experiencing one massive cultural and sporting event. The brief for us was to tell that story, that full sensory experience, and do it through a marketing campaign.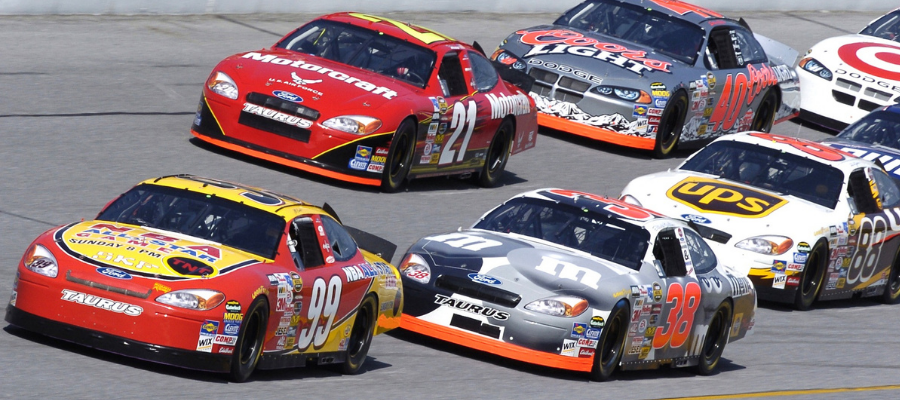 We said, "How are we going to do this? How do you script a story around something that's so emotional and so visceral?" In the end, we actually ended up working with a documentary film director named Doug Pray. He does some amazing work profiling subcultures. We said, "NASCAR is a subculture. Without being there, how do you experience it?" I think what really unlocked that storytelling is we worked with the director, with the writers, with the agency, with the executive producers of NASCAR, and we just went to Daytona for a week. We filmed everything. We filmed fans, and drivers, and flyovers, and practice, and inside the cars, and outside the cars. In the end, it turned into an amazing campaign, tapping right into that emotion of the track. But it also turned into a 30-minute documentary that aired on ABC. It was a completely accidental piece of work. But how we captured it, and the rawness of it, and the realness of the fans, I thought it was one of those times when really good storytelling was told in a very authentic and truthful way.
The Origins of Social Tourist: The Gen Z Brand by TikTokers Charli and Dixie D'Amelio
Conor Begley: Let's talk about Social Tourist specifically. This was a big launch. Talk to me about what it was like to work with Charli D'Amelio. Obviously, Charli D'Amelio's one of the largest TikTokers, if not the largest TikToker, in the world at this point. How did that process work out? How did you start working with her in the first place? What has been her involvement in the product creation process? Has she helped to recruit other influencers to work with you guys? Tell me the whole story.
Robert Zajac: The story starts with my team, because they cracked this open. I mean, right as I was starting, they were cracking this open. So COVID hits, big businesses that are driving a lot of revenue through stores are pivoting, our businesses are trying to pivot. One of the big things was, "How are we going to move significant volume to our digital channels?" The team already had in place great influencer marketing strategies, they had great digital marketing, DTC strategies, traffic revenue, full funnel, the whole thing, but that was a big shift. Especially for a brand like Hollister. A lot of revenue was tied up in, "What are we going to do now?"
The team pitched, "Hey, we should go and work with Charli and Dixie D'Amelio," through the lens of influencer marketing. They can help us drive back to school and holiday, we can create content with them. That pitch was sitting on the table right when I started, so I've got to give a big shout-out to them. It was an ingenious move by the collective. They came in, we created content, we did a whole photo shoot with them just for Hollister, we did a TikTok challenge at the time that had five billion-plus views. It was one of the biggest challenges at the time, it had like 1.2 million videos created. And it was all built on the strength of their personality, their reach, their energy, and their appeal. It went a huge way to making 2020 a successful year for the brand.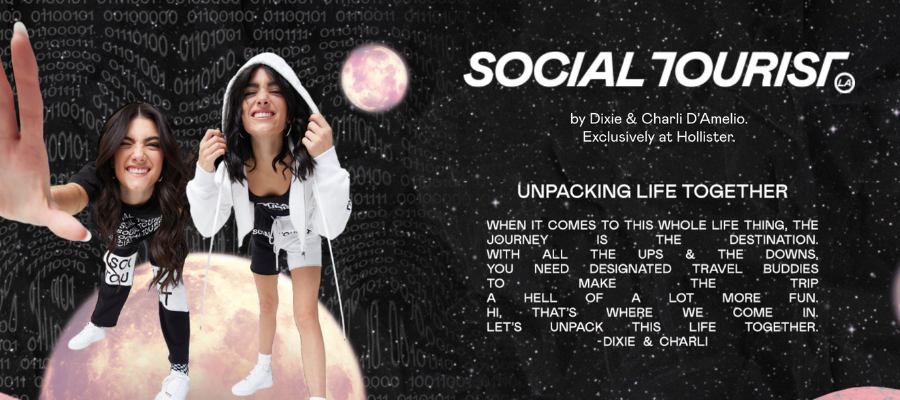 And as all that was happening, we were having this conversation in the background. We said, "What if we signed a long-term partnership with the family, and we created a brand?" What would that look like? What would it be based on, and how would we work together, and what role would we all play? It was new for the D'Amelio family at the time, new for Abercrombie at the time. We had initial conversations about it and there was a shared purpose around just building up and bringing positivity to the world, and building connections, building community, and really supporting that generation that they are a part of. A big part of the brand-building process was like, okay, we share values, that's really important. All of our brands right now are purpose-driven.
The second thing was like, "Can we do this? Can we build a Gen Z brand by Gen Z?" What does that look like? What does a Gen Z brand look like? That was an interesting building block. And then we said, "Can we build an inherently social brand?" We have this unique way into building a social-first brand: we have this incredibly social family that came up through that and they're living that experience every day. How do we build a social-first brand that sets us apart when it comes to how we market, how we build things, how we interact with the family?
We started building all these bits and pieces, and it just came together incredibly well. We worked on the brand and the product and the rest of the line for probably five or six months, building out the infrastructure online, building out the experience, building out the app, and the digital UX as part of the Hollister ecosystem, because it's so big. Now we're six months in, and we're removing and optimizing as we go. Charli and Dixie have an amazing eye for products and trends. They're evolving so fast, so we're working to evolve the brand as they do. It's opened up all kinds of amazing doors.
We ended up doing a live TikTok fashion show on Charli's TikTok channel. It had 1.2 or 1.3 million uniques, and I think at the time it was the largest live-stream ever. We brought this product collection, it was the second drop with Charli and Dixie, and they brought their friends to the show. It was filmed in LA, and it was shoppable. We worked with TikTok to use brand new technology to make the fashion show shoppable as consumers are coming in and experiencing it. It was entertainment, and it was product, and it was commerce, and it was live, and it was on Charli's TikTok. Those are the doors that were opened by working with such an amazing group that has such reach. We feel that's only the beginning. That's the beginning of building an inherently social brand that can do new things, that can open new doors. We think we're really onto something. It's just a super compelling proposition right now.
–
You can watch the entire interview here, or listen to the full episode on Spotify, Apple Podcasts, or Google Podcasts. To catch up on our other 41 episodes, featuring leaders from brands like Milk Makeup, Gymshark, Gucci, and Summer Fridays, visit our Earned Podcast page.