Hype culture never sleeps, and luxury brands want in on it. "Drops" are a trademark of streetwear brands—but in recent months, more and more luxury fashion houses have been racking up street cred by supplementing their bi-annual collections with off-season and limited-edition releases. Here are four high-fashion drops that influencers couldn't wait to cop.
Burberry Reinvents Itself With Monogram Collection
Burberry doesn't play around—or so we thought. In May, the brand launched its laid-back Monogram Collection—which includes t-shirts, track pants, and bombers featuring the brand's reimagined monogram—with a party at luxury boutique Maxfield in LA. Attendees like Lilimar Hernandez chronicled the evening in content tagged #ThomasBurberryMonogram, which pulled in $1.1M EMV. A sizable $776.9k EMV of this total came from the official face of the campaign, Gigi Hadid, who authored eight posts promoting the range. In all, the brand closed May with $8.2M EMV, achieving a 67% month-over-month growth.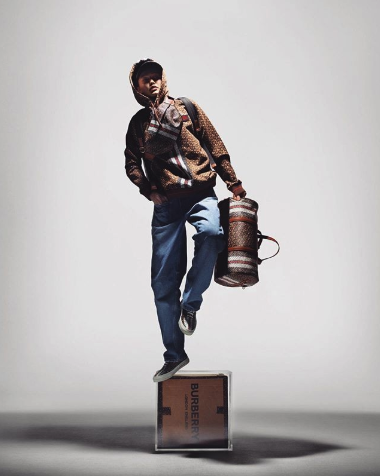 Source: @gigihadid via Instagram
Moschino and The Sims Bring Virtual Clothes Into Reality
Moschino went back to the 'aughts in April, when it partnered with The Sims on a capsule collection of pixelated apparel inspired by the computer game. Influencers including Joey Graceffa celebrated the range at the brand's green diamond-studded Coachella launch event, helping #MoschinoxTheSims pull in $374.9k EMV from 19 content creators. Buoyed by the release, Moschino collected $5.0M EMV in April, enjoying an impressive 118% month-over-month growth.
Jean Paul Gaultier Takes a Stand With Supreme Collab
Jean Paul Gaultier never lost his edge. In April, the notoriously countercultural designer teamed up with OG streetwear giant Supreme on a riot-ready collection including pants and jackets condemning racism. The drop was heavily promoted by streetwear content aggregators like HypeBeast—which powered $252.9k EMV as one of the brand's top three EMV-drivers—and scored shout-outs from influencers such as Jacob Starr, who generated $6.4k EMV via a YouTube video devoted to the collab. Thanks partly to the release, Jean Paul Gaultier surged ahead 114% month-over-month, closing April with $3.7M EMV. Mentions of #Supreme brought in $57.7k EMV.
Versace Gets Sporty With Kith Collection
Kith is the king of loungewear, and who doesn't want to lounge in luxury? Back in February, Versace tapped the sportswear brand for a limited-edition range of jackets, sweats, and other apparel emblazoned with the brands' logos. The collab proved a hit with content creators including musician Jade Thirlwall and influencer Tamara Kalinic, who flaunted pieces from the collection at London Fashion Week. Altogether, #KithxVersace generated $215.8k EMV of Versace's $19.7M EMV monthly total for May—a 9% improvement from January.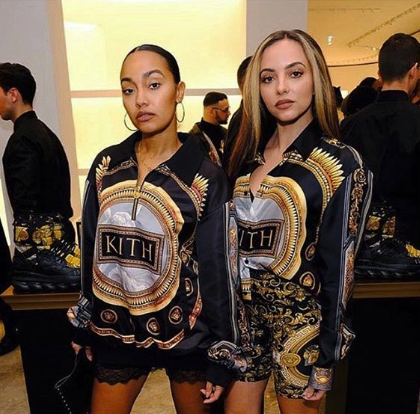 Source: @jadethirlwall via Instagram
Hype culture is as fast-paced as it is fired up—and brands new to the game need to keep the drops coming to stay relevant. But if these launches are any evidence, at least four luxury brands are playing to win.
To read more coverage of luxury fashion from Tribe Dynamics, download our June Luxury Fashion Tribe Top 10 here.