With 2019 officially in the books, Tribe Dynamics is taking a break from our 2020 resolutions to investigate how top makeup brands closed out the year (and decade!). After a slower November, December proved ripe for influencer content creation, with many top makeup brands enjoying significant month-over-month surges in their Earned Media Value. Let's take a look at which makeup brands ended the year on a high note:
Top US Makeup Brands, December 2019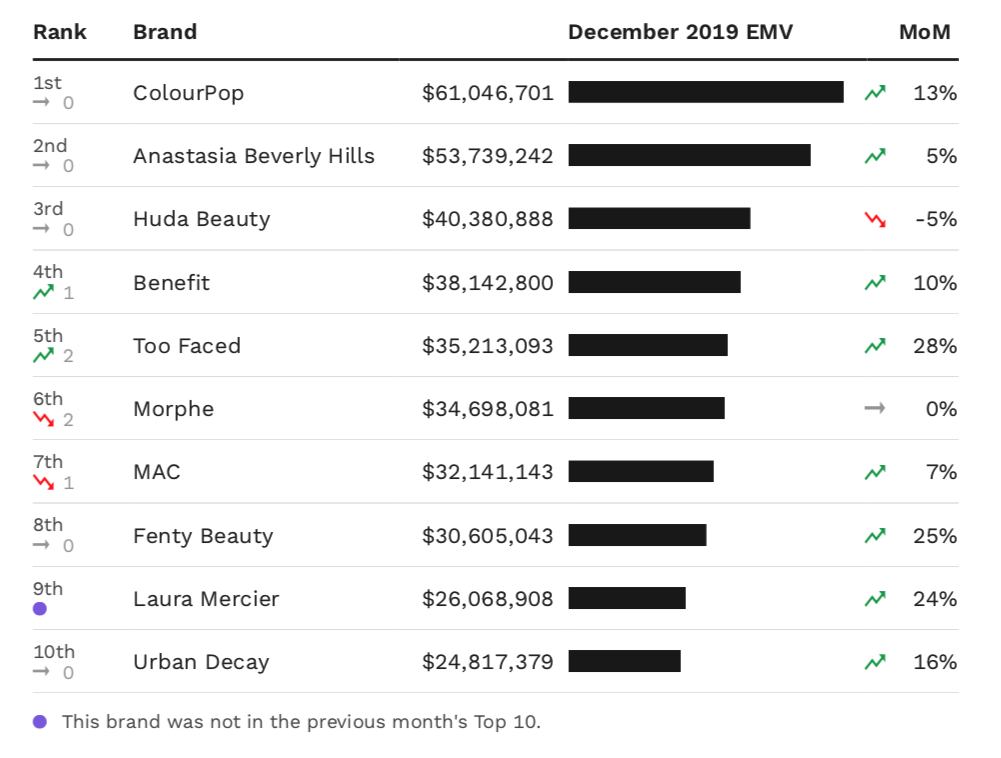 Too Faced
Among December's Top 10 makeup brands, Too Faced saw the highest month-over-month EMV increase at 28%. The brand sealed its No. 5 ranking thanks to a limited-edition holiday launch, as well as an influencer Christmas party in LA, which prompted content creation from attendees like YouTuber Adelaine Morin and Allie Binkowski (@allieballiemakeup on Instagram). Too Faced has continually leveraged in-person events as opportunities to connect with and celebrate its influencer network, cementing a strong close to 2019.
Fenty Beauty
After a few quieter months, Fenty Beauty ended December with an EMV bang, collecting $30.6M EMV as the No. 8 makeup brand. This momentum stemmed from both the sustained popularity of the brand's hero products, like the Sun Stalk'r Instant Warmth Bronzer and the Gloss Bomb Universal Lip Luminizer, as well as significant influencer buzz around its latest offering, the Snap Shadows Mix & Match Eyeshadow Palettes. Read the full report to learn exactly how these products have contributed to Fenty Beauty's long-term success!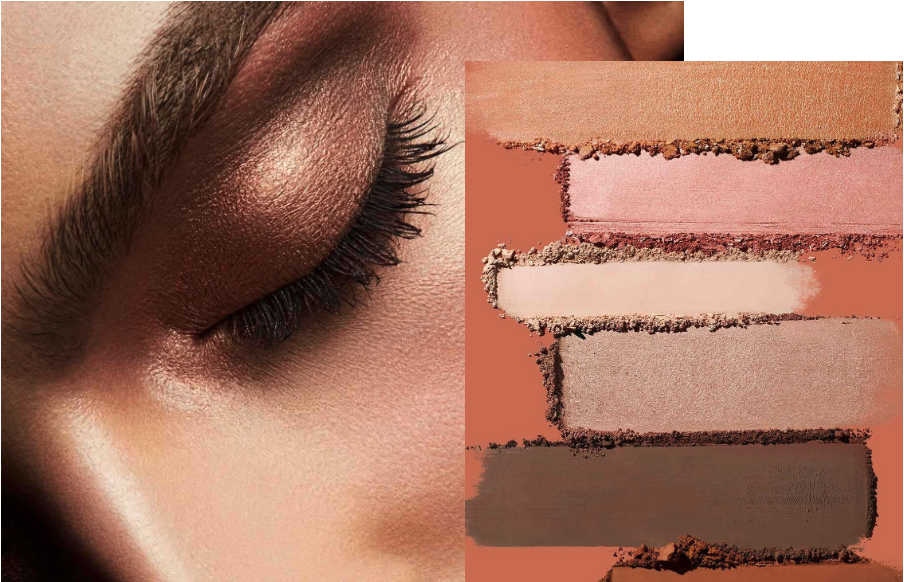 Haus Laboratories
After taking the influencer community by storm during its splashy September launch, Haus Laboratories was back with a new product and supporting activations in December. To celebrate the brand's first eyeshadow palette, the Glam Room Palette, brand founder Lady Gaga joined YouTuber Nikkie de Jager (NikkieTutorials) on her channel, where Nikkie did the pop sensation's makeup. The new product and high-impact video both contributed to Haus Laboratories 46% month-over-month EMV surge.
ColourPop & BH Cosmetics
ColourPop maintained its lead in the Top 10, ranking No. 1 with $61.0M EMV, while BH Cosmetics enjoyed a 27% month-over-month EMV increase outside the Top 10. Both brands' success stemmed in part from influencer collaborations: ColourPop added products to its ongoing collection with Becky G, and BH Cosmetics released the Laviedunprince 12 Color Shadow Palette, a collaboration with beauty blogger Jose Jimenez (@laviedunprince).
Maybelline, COVERGIRL, & Milani
Though all three of these mass makeup brands fell outside of the Top 10, they each enjoyed month-over-month EMV momentum thanks to complexion products. Influencers continued to use Maybelline's hero Instant Age Rewind Eraser Dark Circles Treatment Concealer, while also adopting the newer Dream Urban Cover Flawless Coverage Foundation into their makeup routines. Meanwhile, COVERGIRL saw continued success around its TruBlend Undercover Concealer, and Milani's Silky Matte Bronzer featured heavily in influencer content.
December was a busy month for top makeup brands! Check out all the details, including the full Top 10, by downloading our December Tribe Top 10 report here.