2020 has proved a turbulent year for brands and bloggers (and the world) alike—and the influencer economy has evolved at a rapid pace. Emergent platforms like TikTok are now essential channels for an entirely new crop of creators, and the COVID-19 pandemic has forced brands to find innovative ways to connect with influencers at home in the absence of in-person events. Additionally, global protests for racial justice have prompted a widespread reckoning around race in the beauty, fashion, and lifestyle industries, inspiring many brands to rethink their outreach strategies, and many influencers to leverage their platforms for activism.
To better understand the key successes of, and challenges faced by, brands and content creators right now, we conducted a survey of 60 brands and over 250 influencers. Here's a preview of just a few of the key trends we identified: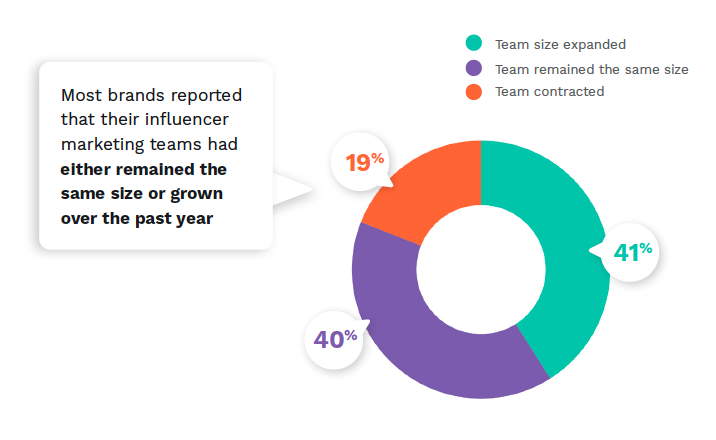 Yes, the Influencer Marketing Industry Is Still Growing
With screen time at record highs, both content creation and influencer marketing resources have continued to increase. The majority (78%) of the brands we surveyed said their team size has either remained the same or grown over the past year. Additionally, most influencers have posted either the same amount, or more during the COVID-19 pandemic: 62% of influencers had either maintained or increased their posting frequency.
Instagram Stories and TikTok Are More Integral Than Ever to Brand Success
As more and more influencers eschew the carefully curated Instagram aesthetic to authentically connect with fans, Instagram Stories and TikTok are becoming increasingly central to both influencers' and brands' storytelling strategies. Over 75% of the brands we surveyed said Instagram Stories had very significantly impacted influencer content about their brand, and 65% said it had significantly impacted their approach to brand activations. Additionally, more and more brands are allocating resources to TikTok: more than one-third of brands with dedicated influencer marketing teams for specific platforms had dedicated teams for TikTok.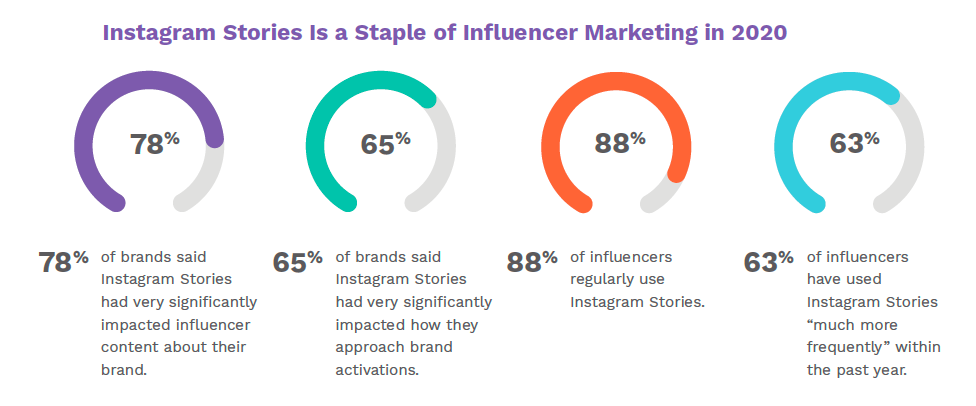 Compensation Is a Key Part of Collaborating With Influencers in 2020
The influencer economy has matured significantly over the past year, and content creators increasingly expect to be compensated for their work. Only 7% of the brands we surveyed had not compensated any bloggers within the past year. Additionally, most influencers said that sponsorship from brands did not impact the authenticity of their content: 28% of influencers said that they only worked with brands they genuinely loved, and another 66% said they were willing to work with brands outside of their favorite brands but still had to like their products.
Brands Are Prioritizing Inclusivity, But Influencers Still Face Marginalization
In recent months, brands have widely rallied around racial justice initiatives: 91% of brands surveyed had engaged in efforts to facilitate inclusivity within the past year. However, influencers still report facing marginalization from brands due to their race and/or ethnicity. A significant 31% of respondents said they had felt overlooked or excluded from a brand activation due to their race and/or ethnicity in the past year, and 25% reported being inadequately compensated due to their race and/or ethnicity (26% of influencer respondents identified as BIPOC).

Both brands and influencers are navigating unforeseen challenges right now, and it's crucial that both parties listen to one another, and continue to embrace opportunities for collaboration. For a complete overview of findings from Tribe Dynamics' 2020 Influencer Marketing Survey, as well tips on building high-impact brand-influencer relationships right now, make sure to download the full report.